Wanted to start a separate thread on Steering Wheels (and possibly re-manufacturing them). This discussion originally started on
In any event, I began thinking about what it might take to get Bugeye steering wheels remade. Folks have reported that even poor examples needing restoration often went for over $100. Perhaps this is one of the items that we should consider sourcing ourselves to help improve the hobby.
Please take a moment to vote on what a new steering wheel would be worth to you, if they were available for purchase.
Additionally, I have taken some photos of the spare steering wheel in my basement (as well as the one on my car).
(See for all the photos)
Here's a picture of what a Bugeye Steering Wheel is supposed to look like: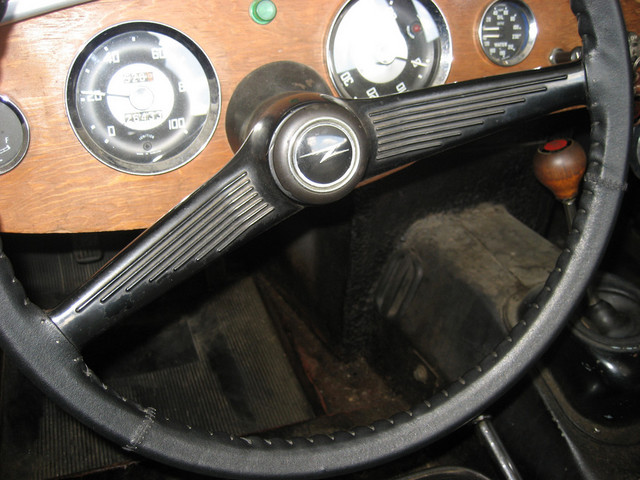 Now, here's a photo of the spare wheel I had in my basement. Came from a Bugeye parts car (I think) but obviously NOT a Bugeye Wheel. Construction and hub appear to be the same though--so first question is: "What kind of wheel is this?" (Midget? Mini? Other?)
This wheel is in tough shape (missing chunks of the coating) but it gives some insight into how these may have been made. They seem to have some kind of aluminum (?) alloy substructure, and then are "coated" with some kind of a rubber (?) material.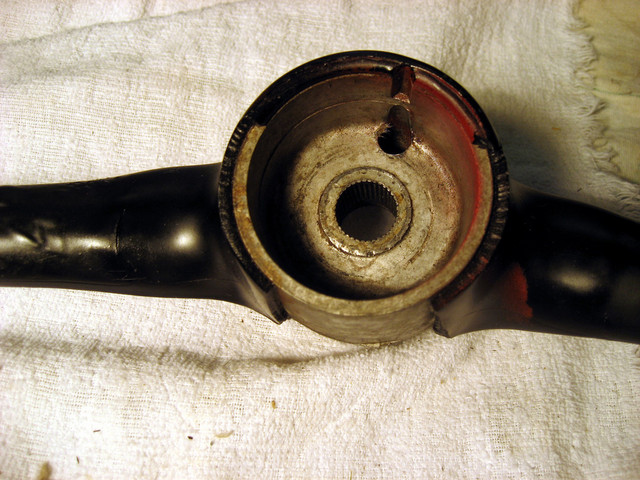 Here's a photo where the coating has separated, showing the core underneath:
So--if one were to consider remaking these--where would you start? Does anyone know a manufacturer that might be able to look at this and provide some insight as to construction, and possible cost to remake? Indeed, does it make sense to duplicate the original construction (metal core with coating) or simply create a modern "cosmetically equivalent" but better constructed product? (Whatever that might be?)
Let me hear from you--am serious about looking into having this (and/or some of our other rare but needed parts) reproduced.
Thanks!